Amazon's crisis-profiteering
Coronavirus is helping Bezos tighten his grip on books and everything else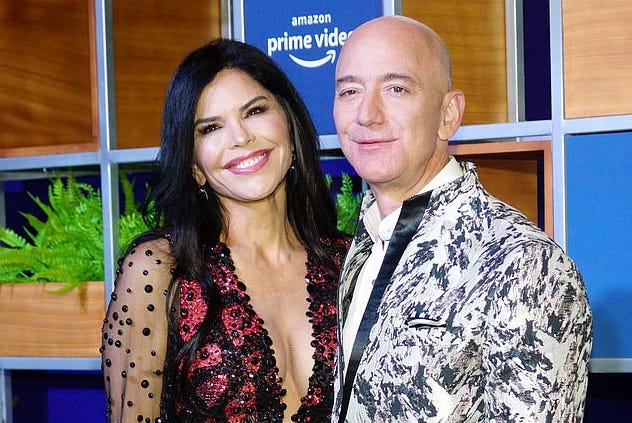 Most of the news coverage Amazon has received in recent weeks has focused on unhappiness among its warehouse workers, delays in shipping, and its frantic efforts to hire more people to keep up with consumer demand. It's almost enough to make you feel sorry for Jeff Bezos. But don't.
The most important of those stories is the feverish hiring. Amazon is experiencing huge demand and it's taking advantage of the crisis to tighten its grip on the retail sector. It will come out of all this stronger than ever. While the rest of the stock market is getting crushed, Amazon's share price is up 50% since the beginning of the lockdown last month.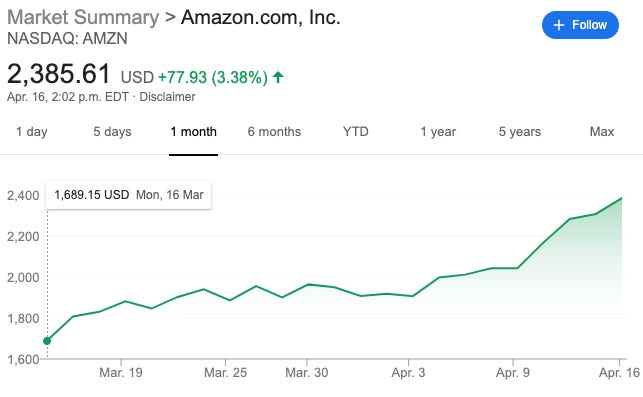 Amazon's moves have been several and complicated, but here's a fairly clear one. Pleading a need to get health and safety supplies to desperate buyers, Amazon deemed all of its third-party sellers (who account for more than half the sales on the platform) "non-essential" and restricted their warehouse access and eligibility for Amazon Prime expedited shipping. At the same time, it deemed Amazon-branded products (earbuds, speakers, tablets) "essential," delivering them in one or two days.
That message you read at the top of Amazon's home page about giving priority to items that its customers need most?
"Alexa," with free one-day delivery, "spell bullshit…"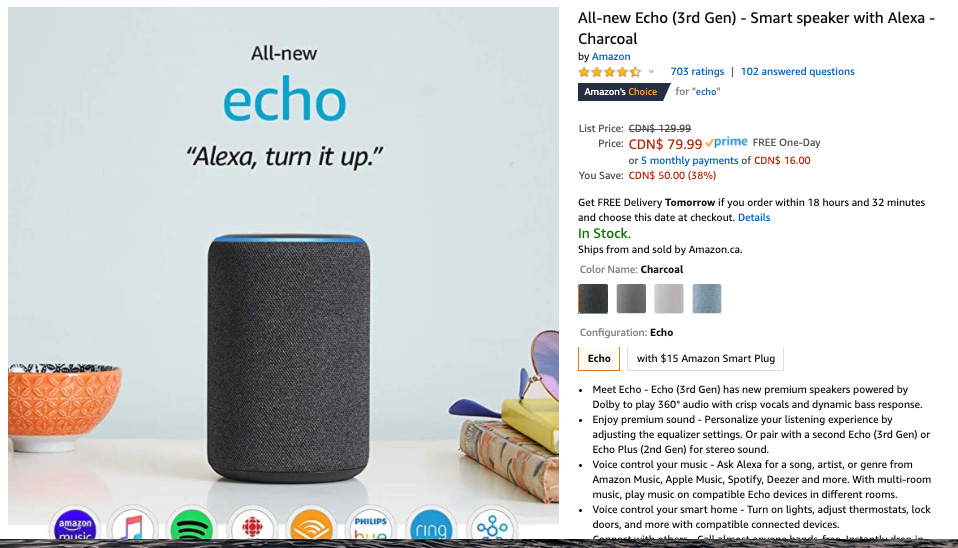 Here's another example. Rather than cope with the increased demand on its system by giving preference to seller-fulfilled products and listings, Amazon has hidden listings by retailers who promise to deliver the same products as Amazon at earlier dates. This screws not only the third-party seller but consumers.
And one more. By downgrading the service available to non-Prime members in the midst of a crisis, Amazon is pushing shoppers into buying the $119/yr membership, never mind that even Prime members aren't getting much out of Prime shopping promises at the moment.
Write Shaoul Sussman, a legal fellow at the Institute for Local Self-Reliance:
In the last two weeks, it became apparent that Amazon is seizing the moment by leveraging its position as intermediary between quarantined consumers and distressed merchants to bolster its grip over the retail sector. Enforcement agencies and lawmakers should step up and scrutinize Amazon's activities at this critical moment. If they fail to do so, Amazon's power over our economy would dwarf the power it possessed prior to this pandemic. 
Over on the book side of Amazon's business, the company has "deprioritized" delivery of paperbacks and hardcovers on the grounds that they are non-essential (compared, say, to Amazon's earbuds). It is meanwhile pushing like crazy its proprietary Audible book and Kindle ebook services, which have near-monopolistic grips on the audio and ebook markets, respectively. We searched twenty non-fiction bestsellers including Michelle Obama, David McCullough, and Erik Larson on Amazon.com and all of them came up with either Kindle or Audible as the default offer.

None of us know the financial details of Amazon's bookselling operations but it's a safe bet that its Kindle and Audible platforms are not only proprietary but more profitable than its sales of physical books, which are usually heavily discounted and delivered free at considerable expense to Amazon.
This does not strike us as ethical behavior. It looks more like crisis-profiteering. So, yes, enforcement agencies and lawmakers should step up and scrutinize Amazon's activities at this critical moment.
PS: Amazon is now claiming that the deprioritizing of third-party fulfillment was an unintentional error. According to the Wall Street Journal, Amazon will lighten up on third-party sellers next week, although it's not clear to what extent).
---
This is the forty-fifth edition of SHuSH, the official and free non-fiction newsletter of Sutherland House Inc. You can help us out by subscribing (it's free) here:
---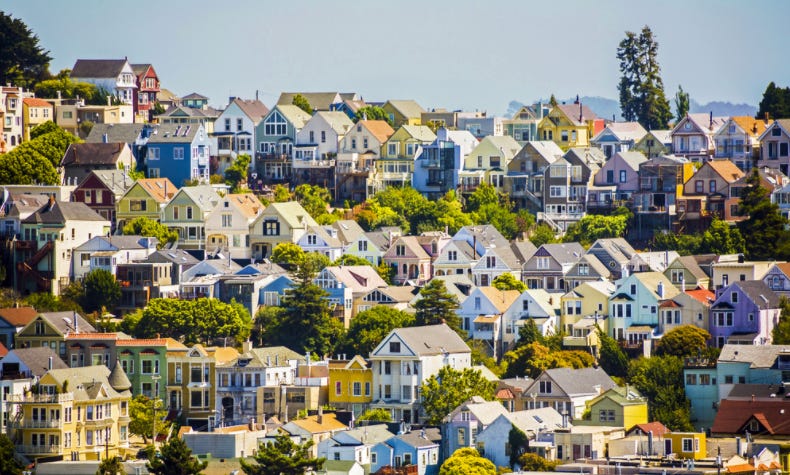 Jacob Glick, a Friend-of-SHuSH, read Conor Dougherty's Golden Gates: Fighting for Housing in America and had this response:
The rent is too damn high. Housing is too damn expensive. Nowhere in America is this more acute than in the San Francisco Bay Area. In recent years there has been a huge boom in new jobs in the region, many of them lucrative positions at great companies, but for every eight new jobs, only one new housing unit is built. This has driven up prices and rents, pushing even people who have good jobs to the brink.

Golden Gates details the decades of terrible governance and self-interested politics that brought the Bay Area to this point. A weird, only-in-California coalition of anti-poverty activists, suburbanites, environmentalists, multi-millionaire landowners, and so-called progressives has made it impossible to build new housing.

The book weaves this maddening history of regressive policy with vivid storytelling. Dougherty showcases the hard-charging YIMBY (yes in my backyard) activists who are taking on the California political establishment in an effort to make San Francisco livable again, or maybe for the first time. 
---

Reader of the Week
Joseph E. Stiglitz, educated at Amherst, MIT, Cambridge, and Oxford, a professor of economics at Columbia University, former chief economist of the World Bank, former chair of Bill Clinton's Council of Economic Advisors, founder of the Initiative for Policy Dialogue, founding chair of Columbia's Committee on Global Thought, chair of the University of Manchester's Brooks World Poverty Institute, former chair of the UN Commission on Reforms of the International Monetary and Financial System, former chair of the Commission on the Measurement of Economic Performance and Social Progress, former president of the International Economic Association, winner of the prestigious John Bates Clark Medal given to the leading U.S. economist under forty, winner of the Nobel Prize in Economics (2001), author of a few dozen books and owner of some forty honorary degrees, finds a lot of time to read, leaving the rest of us no excuse. On his nightstand at the moment:
Like everyone, I have a large and aspirational pile on my nightstand. In fact, my wife recently bought me a bigger nightstand so we'd have more room for the books I want to read. Right now I've got "A Moveable Feast," by Ernest Hemingway, to remind me of Paris, which I fell even more in love with during my term teaching there. "The Ratline," because the author, Philippe Sands, is married to my wife's sister and he sent it to us. Jill Lepore's "These Truths" and "The Light That Failed," by Ivan Krastev and Stephen Holmes, because everywhere I go people are talking about those two books. Ian McEwan's "The Cockroach," because the person who runs the renowned bookstore in Schloss Elmau (Germany) thought I would like this Kafkaesque parable of Brexit, in which a cockroach becomes prime minister. A book that was on my nightstand, but I have since read, is Hannah Lillith Assadi's beautiful "Sonora," a novel about the Arizona desert, New York City and the coming-of-age of a young woman whose parents are Palestinian and Israeli Jewish.
---
THAT'S ALL FOR THIS WEEK. STAY SAFE. READ LOTS. THIS WOULD ALSO BE A GREAT WEEK TO SHARE SHuSH WITH ALL YOUR FRIENDS AND INVITE THEM TO SUBSCRIBE: