The sublime to the assholic
Tennis writing from Shakespeare through David Foster Wallace to Andre Agassi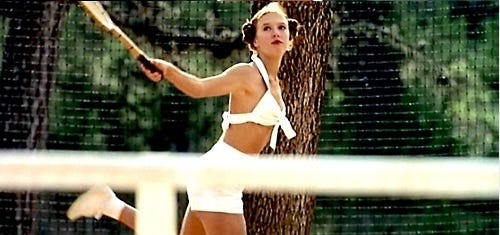 It's Wimbledon season and time for reading about tennis, a sport with a literature superior to that of golf or any other individual sport, not least because it attracts supreme literary talent. Occasionally this writing appears in fictional form—Nabokov's Lolita includes a tennis match between Humbert Humbert and Dolores Haze, who serves at a "spanking pace," and Shakespeare squeezed volleys into various plays—but the best is found in essays by the likes of Martin Amis and David Foster Wallace.
---
Welcome to the sixth edition of SHuSH, the official non-fiction newsletter of The Sutherland House Inc. Subscribe to get SHuSH in your inbox weekly:
---
Some of Amis's contributions are included in his collection The Rub of Time. He wrote of his own game in the Guardian and is perhaps best known for a two-page New Yorker article that bemoaned tennis's propensity to produce "personalities"—his euphemism for assholes. Andre Agassi, Jimmy Connors, and John McEnroe are taken to task but the Romanian Ilie Năstase, who called Arthur Ashe "'Negroni' to his face and, once, 'nigger' behind his back," comes off worst. If you don't have a New Yorker subscription you can find the piece on Twitter.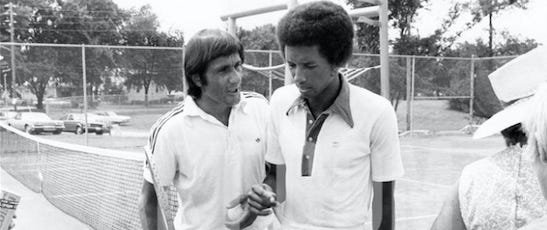 Wallace's tennis writing is stunning. It stands with the best sports writing of any era. The Library of America pulled together his best pieces in String Theory: David Foster Wallace on Tennis, which includes his wonderful essay on Roger Federer:
Federer and Nadal come out to applause, make their ritual bows to the nobles' box. The Swiss is in the buttermilk-colored sport coat that Nike's gotten him to wear for Wimbledon this year. On Federer, and perhaps on him alone, it doesn't look absurd with shorts and sneakers. The Spaniard eschews all warm-up clothing, so you have to look at his muscles right away…. There happen to be other tics and habits, tiny perks of live viewing. There's the great care Roger Federer takes to hang the sport coat over his spare courtside chair's back, just so, to keep it from wrinkling — he's done this before each match here, and something about it seems childlike and weirdly sweet. Or the way he inevitably changes out his racket sometime in the second set, the new one always in the same clear plastic bag closed with blue tape, which he takes off carefully and always hands to a ballboy to dispose of. There's Nadal's habit of constantly picking his long shorts out of his bottom as he bounces the ball before serving, his way of always cutting his eyes warily from side to side as he walks the baseline, like a convict expecting to be shanked. 
Tennis players, as a rule, write weak books. Pete Sampras' A Champion's Mind is as dull as every TV interview he ever gave. Andre Agassi's Open isn't bad if you can stomach the self-pity and his tendency to blame the game for his bad decisions. The best, by far, is John McEnroe's You Cannot Be Serious. We admit to having grown fond of McEnroe throughout his post-playing broadcast career, starting from the moment he cracked up on air during the 2002 U.S. Open while describing the unearthly likeness of Art Garfunkel and his son James.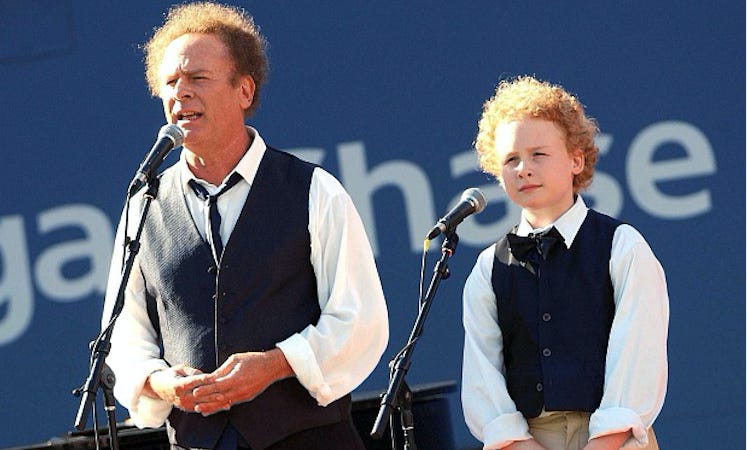 McEnroe's book captures his conversational style and is at its best recounting his frustrating boyhood attempts to grow Rod Laver-like forearms, his days as a ballboy at Forest Hills (where he saw up close Năstase's genius with a racket and attempts to spit on his opponents), and the confidence he brought to Wimbledon's turf as an eighteen-year-old having played "a couple of times" on the grass at Tuscaloosa.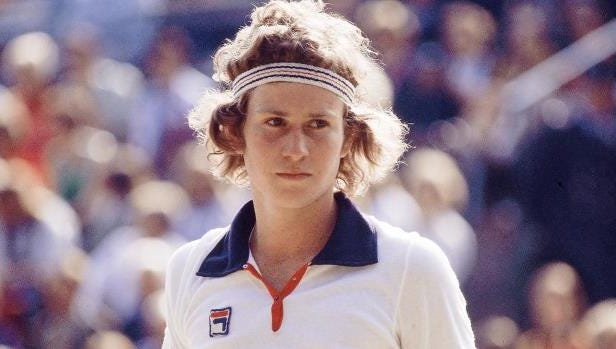 McEnroe is also generous and insightful in his assessment of other players:
[Bjorn Borg] was the best athlete I've ever seen on a tennis court – I don't think people realize how good an athlete he was. And the fact is, he had to be, because his game was bizarre, in a way: running back and forth, well behind the baseline, hitting ball after ball after ball until an angle opened up or the other guy missed. It was so side-to-side, compared to my forward-forward-forward, but Bjorn was so fast he could make up for it. Even today, at forty-five, he's faster than all but of couple of guys playing tennis.
He envied Jimmy Connors' self-command: "Connors always had the ability to turn his anger on and off, which amazed me. I was a one-way street—mad, madder, and maddest."
We'll mention one other book, John McPhee's Levels of the Game, which is built around Arthur Ashe's run at the 1968 U.S. Open. We think it wrings the life out of its own story but the New York Times considers it "the high point of American sports journalism." Your choice.
---
You can share this SHuSH with somebody else by clicking here.