When publishers ask for it
How did Hachette think it could sign both Woody Allen and Ronan Farrow?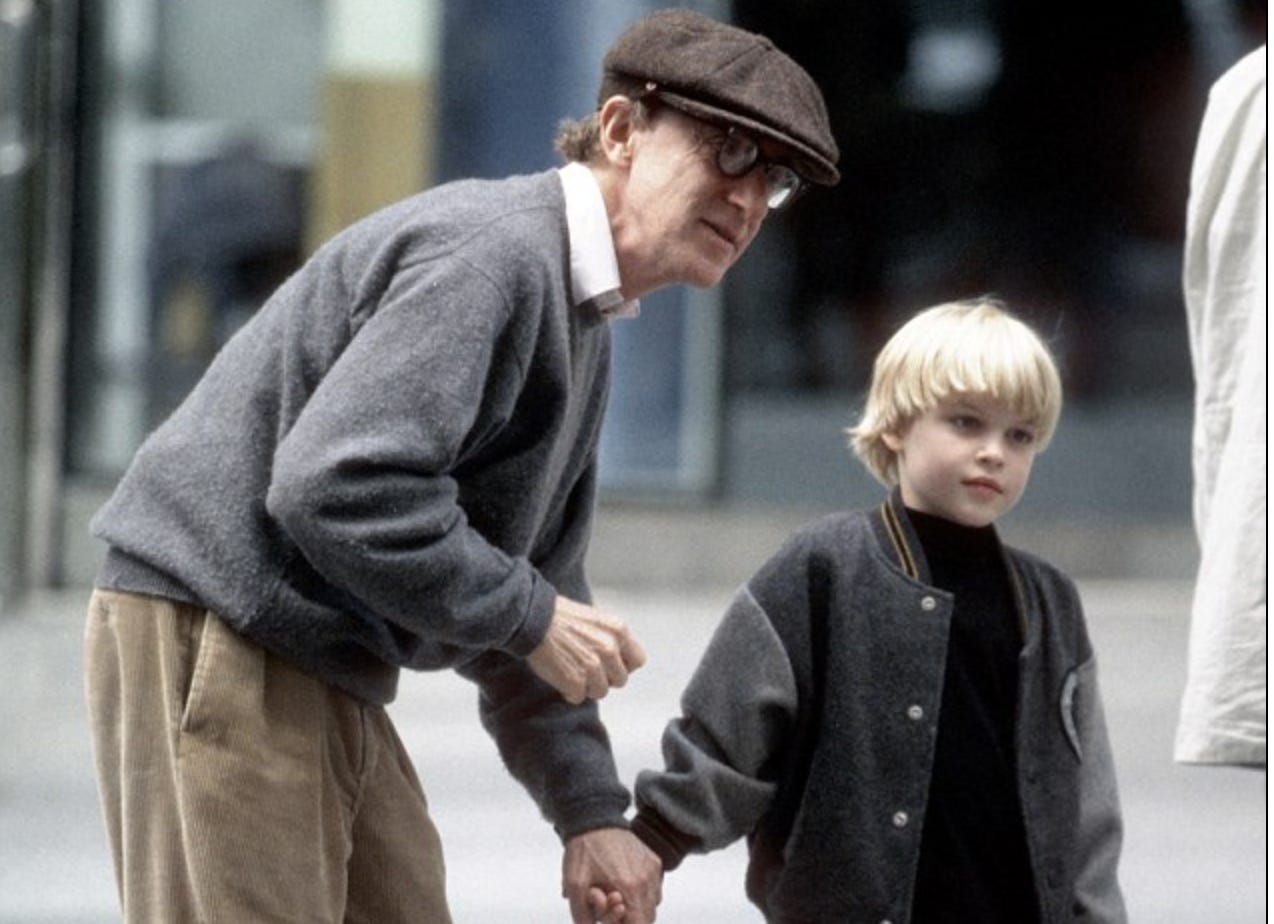 (Friday 5 pm update at the end of the article)
Ronan Farrow, the #MeToo crusader and author of Catch and Kill, a book about men who commit sexual abuse and the people who cover for them, recently learned that his publisher, Hachette, was publishing a memoir written by his father, Woody Allen, from whom he is famously alienated. (The two of them above, in happier days.)
Farrow maintains that Allen inappropriately touched his sister, Dylan, when she was seven years old. Two days ago, Farrow released a statement expressing disappointment with Hachette and accusing the publisher of concealing from him its decision to publish Allen's memoir, entitled Apropos of Nothing.
---
This is the thirty-ninth edition of SHuSH, the official and free non-fiction newsletter of Sutherland House Inc. You can help us out by subscribing (it's free) here:
---
Farrow went on to complain that Hachette did not fact-check the Allen book, and that it had never contacted his sister "to respond to any denial or mischaracterization of the abuse she suffered at the hands of Woody Allen—a credible allegation, maintained for almost three decades, backed up by contemporaneous accounts and evidence. It's wildly unprofessional in multiple obvious directions for Hachette to behave this way. But it also shows a lack of ethics and compassion for victims of sexual abuse, regardless of any personal connection or breach of trust here."
Farrow publicly ended his relationship with Hachette on the grounds "that a publisher that would conduct itself in this way is one I can't work with in good conscience."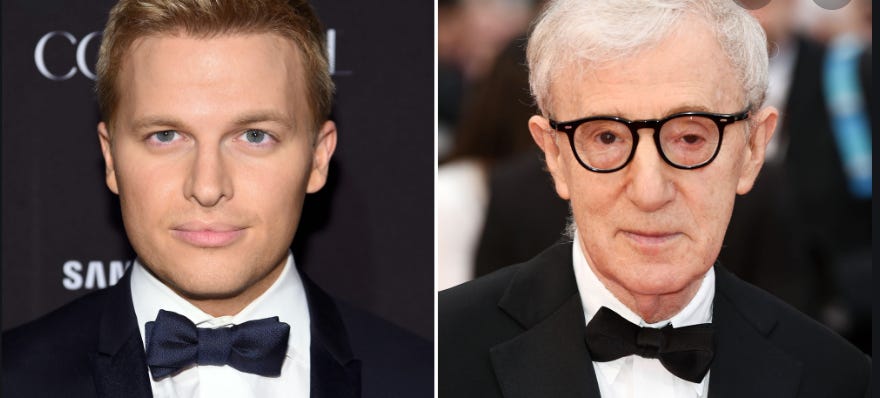 Everything Farrow publishes these days makes headlines, and this statement was no exception. It made a particular impression on staffers at Grand Central Publishing, the Hachette imprint contracted to publish Allen's memoir. They walked out of their offices in protest. They were followed by employees of their more prestigious sister imprint, Little, Brown, publisher of Catch and Kill. They pronounced themselves ready to "stand in solidarity with Ronan Farrow, Dylan Farrow, and survivors of sexual assault."
Michael Pietsch, the chief executive of Hachette, maintains that it is a basic principle of publishing that his various imprints are editorially independent of one another: "We do not allow anyone's publishing program to interfere with anyone else's."
"Each book has its own mission," he continued. "Our job as a publisher is to help the author achieve what they have set out to do in the creation of their book."
So, quite the mess. A few things to consider.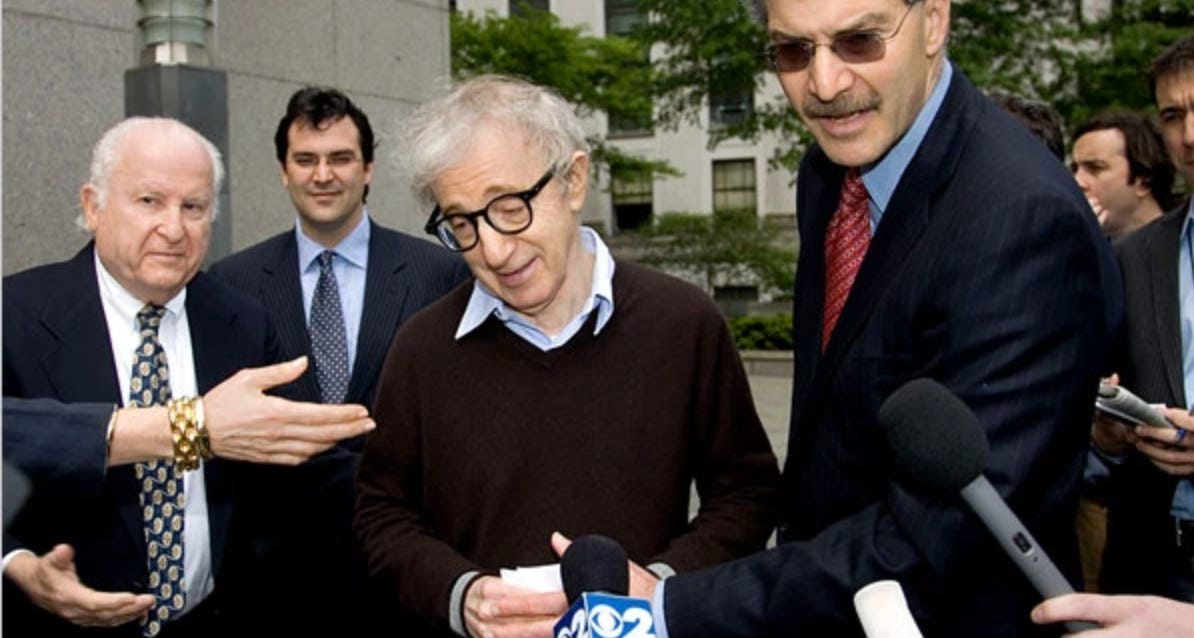 Feuding family members are never the most reliable witnesses and it is impossible to reconcile the differing accounts of the warring Allen-Farrow factions.
It's worth recalling, as none of this week's journalism has, that an investigation by the Child Sexual Abuse Clinic of Yale-New Haven Hospital concluded that Allen had not sexually assaulted Dylan, that the judge who rejected Allen's attempt to gain custody of Dylan and two siblings rejected the allegation of sexual abuse (he called Allen's conduct toward Dylan "grossly inappropriate" but not sexual), and that a state prosecutor, not wanting to expose Dylan to "the rigors and uncertainties of a questionable prosecution," chose not to pursue charges of abuse against Allen (shown above on one of his many court appearances). The New York Child Welfare Agency also concluded there was no credible evidence of abuse or maltreatment.
The Farrow side of the dispute believes that the authorities failed and that there is compelling evidence of sexual abuse. Maureen Orth has a summary here.
This conflict has been rolling for decades. It is deeply personal to Ronan Farrow. Several years ago, during the Golden Globes' celebration of Allen's career, he tweeted:

The statement Farrow released this week is obviously that of an angry man, and it overreaches. He complains that Hachette did not fact check Allen's book. With rare exceptions, publishers don't fact-check books. It is the author's responsibility to get his or her stuff right. And publishers especially don't fact-check memoirs, which are subjective and personal stories. Unlike biographies or autobiographies, they don't claim to be records of verifiable fact (which, to our mind, is the great weakness of the memoir genre, but that's for another day.)
It follows that Hachette would have had no need to contact Farrow's sister for a response to his characterization of the abuse he maintains she suffered. Whether or not Allen addresses the incident in his book (which Farrow does not appear to have read) is unknown. In sum, Farrow's charge that the publisher's handling of the Allen manuscript was unethical and lacking in compassion for victims of sexual abuse is weak.
Farrow is on firmer ground, although not technically, in asserting that Hachette betrayed him personally.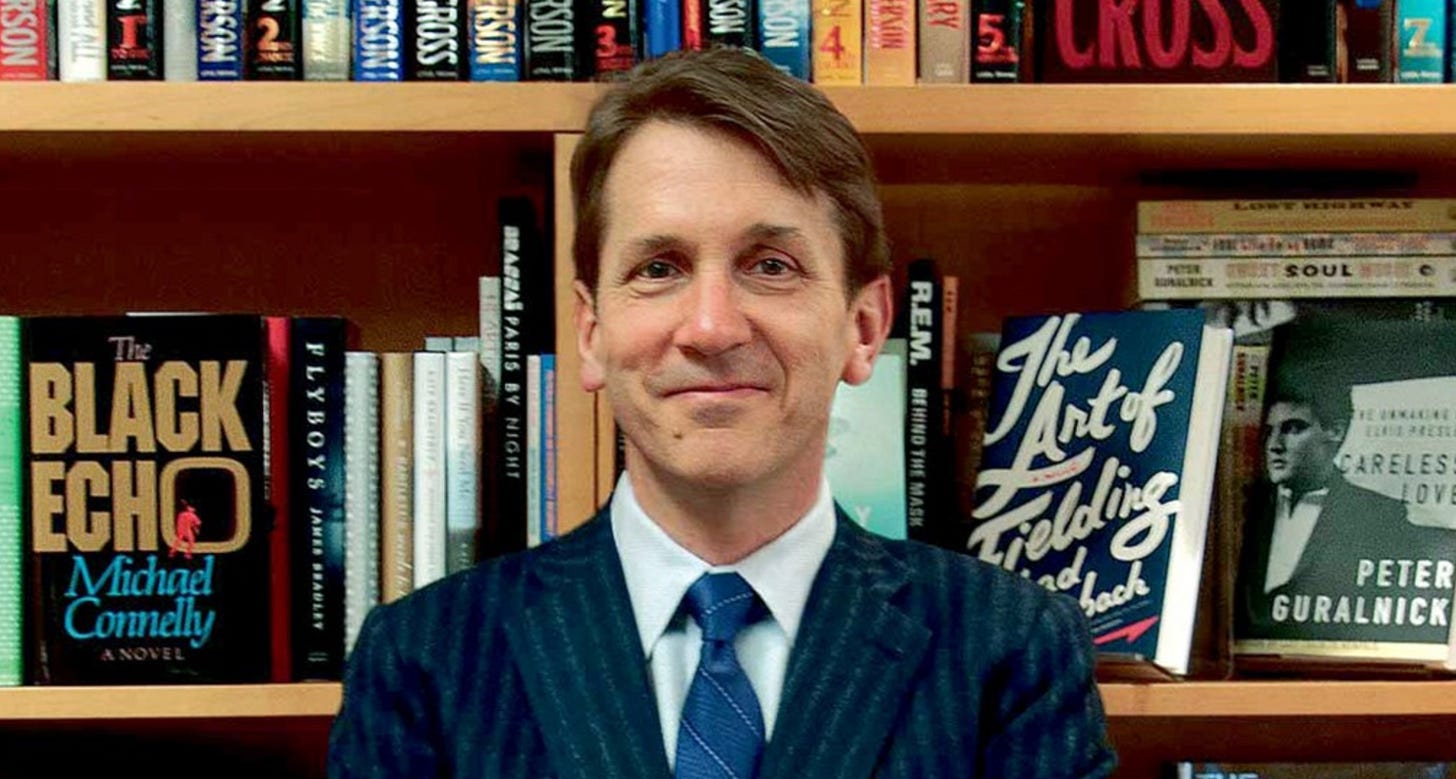 Michael Pietsch (above, in happier times) is correct that the various imprints of a large publishing company operate more or less independently of one another. That's the convention at Penguin Random House and Simon & Schuster as well as at Hachette. Publishing both Farrow and Allen is not unlike a newspaper giving space to both sides in a contentious story: air the differences and let readers make up their own minds.
Where Pietsch blew it was in his lack of transparency. If it's your position that you are open to all points of view, you declare it loudly and you don't hide your actions. Pietsch milked Farrow's book, released last fall, for all it was worth before revealing only lately that Allen's book had been in his back pocket since the previous March.
If Pietsch thought he could get away with publishing both Allen and Farrow, given all that has transpired, he was out of his mind. For two years, the publisher has had a front-row seat for Farrow's take-no-prisoners crusade against suspected (and, since the Weinstein verdict, convicted) abusers. If you sign on to Ronan Farrow's book, you sign onto the Ronan Farrow project. Did he think Farrow would fail to notice Woody's book? Or bend his principles, just this once, for the greater good of Hachette? Or miss an opportunity to take a stand against his monstrous father?
On its own, and notwithstanding the staff walkouts, Hachette's decision to publish Allen would have been defensible. He is an important figure in the history of film, he has not been convicted of a crime, and there is probably an audience for his writing, one adept at distinguishing his personal creepiness from his enormous talent.
But "on its own" is the operative phrase in that paragraph. Trying to weasel both books onto Hachette lists was bad faith, and it has left Hachette in the commercially indefensible position of having lost the hot-selling Farrow while maintaining the increasingly tainted Allen.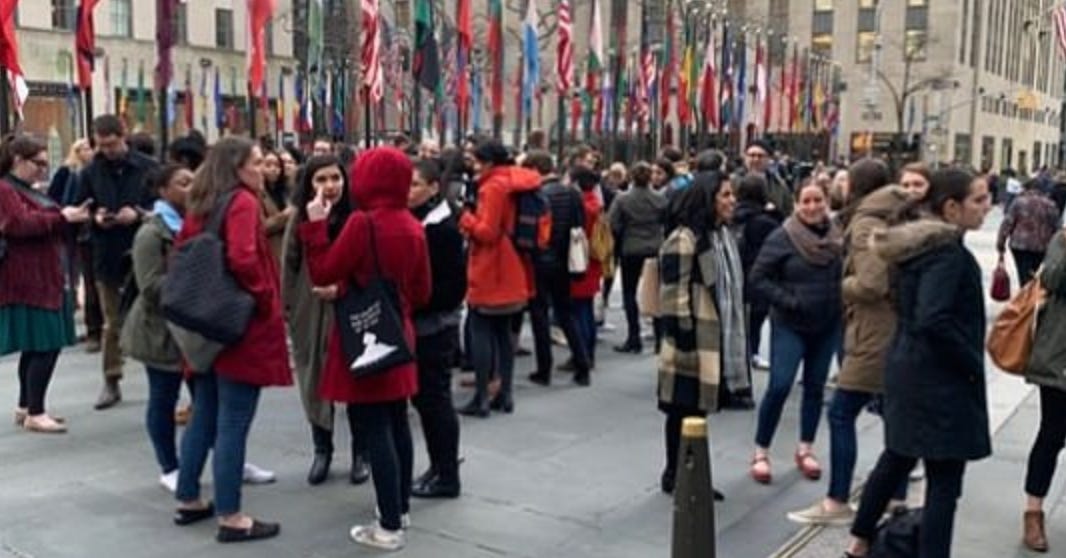 It remains to be seen if Pietsch has lost his staff as well as Ronan Farrow. After reading Farrow's statement, the disgruntled workers at Little Brown and Grand Central apparently first took their complaints to Hachette's human resources department. Pietsch tried to organize a town hall meeting but, according to one source, "none of the senior leadership would stand with him and the staff walked out of the offices." That's them above.
These staff rebellions are increasingly popular in New York media circles. Sometimes the man in charge winds up on the street, as was the case with New York Review of Books editor Ian Baruma after he published a controversial piece by the disgraced (yet legally not-guilty) Jian Ghomeshi. David Remnick, editor of the New Yorker, announced that he had invited Steve Bannon to one of the magazine's events and within twenty-four hours had been convinced by an office uprising to rescind the invitation. He issued a public apology and remains in his chair. Penguin Random House U.S. signed Jordan Peterson to a huge deal last year. Staff were outraged. PRH defused the situation by shuffling Peterson to a minor imprint. On it goes.
The publishing environment has changed, at least for the time being. It is increasingly difficult to avoid taking sides on such topics as gender relations and Trump. The notion that a publisher can distance himself or herself from the content published—"the views expressed herein do not necessarily reflect those of the owner or management"—is becoming untenable, at least in particular instances.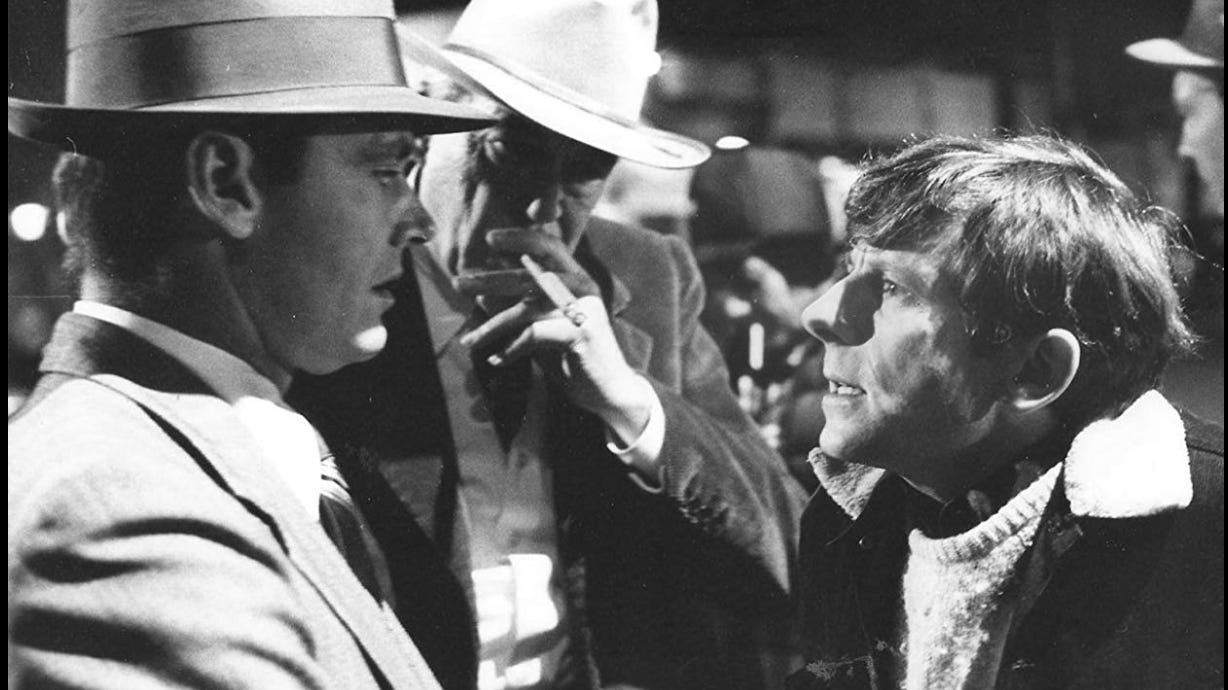 An interesting coda to the Farrow-Allen story. Earlier this year, Flat Iron press chose to publish The Big Goodbye: Chinatown and the Last Years of Hollywood, a book-length celebration of Roman Polanski's cinematic masterpiece. That's the same Roman Polanski who was charged in Los Angeles with rape, perversion, sodomy, lewd and lascivious acts, and furnishing a controlled substance to a minor, and eventually convicted of unlawful intercourse with a thirteen-year-old. The New York Times, which clearly sides with Farrow over Allen, last month published two pieces about The Big Goodbye and mentioned Polanski's troubles only once, in passing.
---
Friday 5 pm unpdate on the Hachette story: From the New York Times: "Hachette Book Group on Friday dropped its plans to publish Woody Allen's autobiography and said it would return all rights to the author, a day after its employees protested its deal with the filmmaker.
"The decision to cancel Mr. Allen's book was a difficult one," a spokeswoman for the publisher said in a statement. "We take our relationships with authors very seriously, and do not cancel books lightly. We have published and will continue to publish many challenging books. As publishers, we make sure every day in our work that different voices and conflicting points of views can be heard."
It will be interesting to see if Mr. Pietsch keeps his job, having overseen this disaster. As for Allen's book, we were rather surprised he chose to publish in New York instead of the U.K. where temperatures are cooler and more liberal ideals about publishing obtain. Maybe he does so now.
---
Please share or subscribe to SHuSH:
And remember that Sutherland House is always looking for non-fiction book proposals and manuscripts. Send to ken@sutherlandhousebooks.com